Written for RAF News Jan 2019
From absurdist Yorgos Lanthimos comes another blackly comic farce but this time in the shape of a period drama. Following a grieving and gout-ridden Queen Anne (Olivia Coleman) and the two women vying for her attention, this story is sort of based on actual relationships, but it is certainly not to be mistaken for a biopic.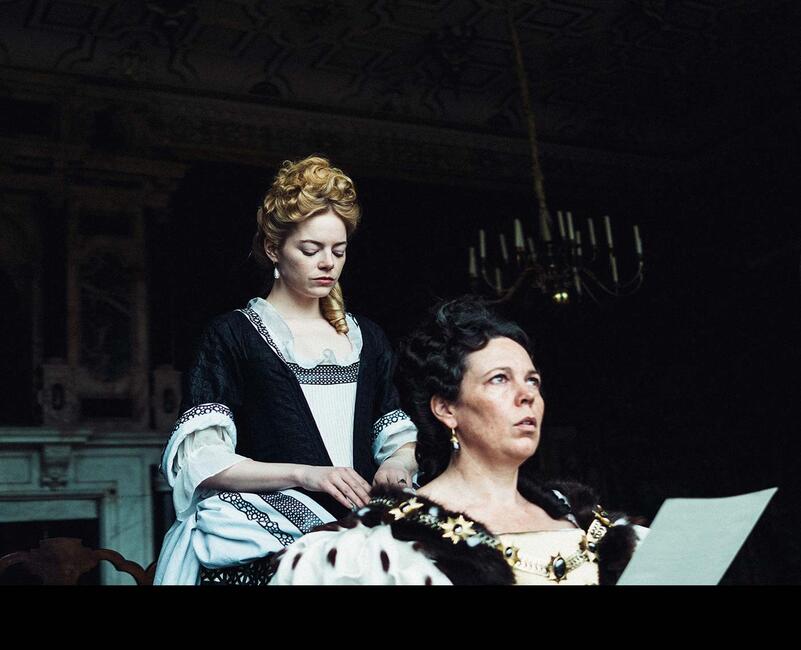 Known to fabricate a wonky realism within his films filled with strange rules and stilted dialogue, this period set film could be seen to provide both and perhaps this is why Lanthimos' stylings come out in different ways. There is in fact a more contemporary physicality and language, though it is the brazenly graphic nature that is likely to cause a stir among unsuspecting audiences. This is the first of Lanthimos' films that he did not write himself, but what it retains is his dark absurdist slant and sly humour.
The comedy is bigger and more obvious, tilting into farcical but shaded with tragedy. The customs and practices of the period become a playground in which Lanthimos is able to poke fun: a formal dance embellished with nonsense or aristocrats jeering violently over a duck race.
The film sees Abigail Hill (Emma Stone) arrive at the palace a servant, apparently having fallen far since she was a lady. Sharp tongued and quick witted she is cunning, with an understanding of politics and favouritism that could mean the difference. Abigail is our very own Barry Lyndon, intent on climbing the ranks into the Queens favour and perhaps even her bedchambers, much to the dismay of Lady Sarah Churchill the Duchess of Marlborough (Rachel Weisz), confidant and secret lover of the Queen.
A battle of wits commences between these women, manipulating the childishly capricious Queen to benefit themselves, and perhaps even to the detriment of the country which is fighting a war in France and running low on funds.
Marlborough has a history with the Queen, which allows her brutal honesty and befits her hardened demeanour. But Coleman and Stone, both with their big glassy eyes, are masters of reaction, a close-up of either is able to change the mood of a scene, to show a level of deception or reveal cause for empathy.
With politics reduced to squabbling, and with sharply written swearing it feels more like the recent The Death of Stalin than anything from the genre. This is by far Lanthimos' most accessible film and bound to invite a larger audience, for some to be won over and for others to be offended. Undeniable though, are the powerful and hilarious central performances of these three women.